'After Life' Benches by Netflix and Calm | Campaign of the Week
Welcome to Campaign of the Week, where we explore some of the freshest and most exciting campaigns from the brands that are engaging their Gen Z audience and catching our attention every week. Today we're looking at Netflix and CALM's recent campaign, inspired by Ricky Gervais' Netflix series After Life.
You'll most likely be aware of comedian, actor and all-round good egg Ricky Gervais and his brilliant Netflix show, After Life. With three series and incredible viewing figures, After Life follows Gervais' character Tony as he navigates life following the death of his wife. It's a show that evokes tears and laughter in equal measures and is both heartfelt and inspiring. One of the main themes of the film is mental health, and Netflix has partnered up with the non-profit Campaign Against Living Miserably (CALM) to celebrate this.
To summarise the importance of the show in CALM's words: '…[it] has helped people to stop feeling ashamed or embarrassed about discussing their emotions. It's a show that makes you think about your own life, how you handle tragedy, what it all means and what's important to you.'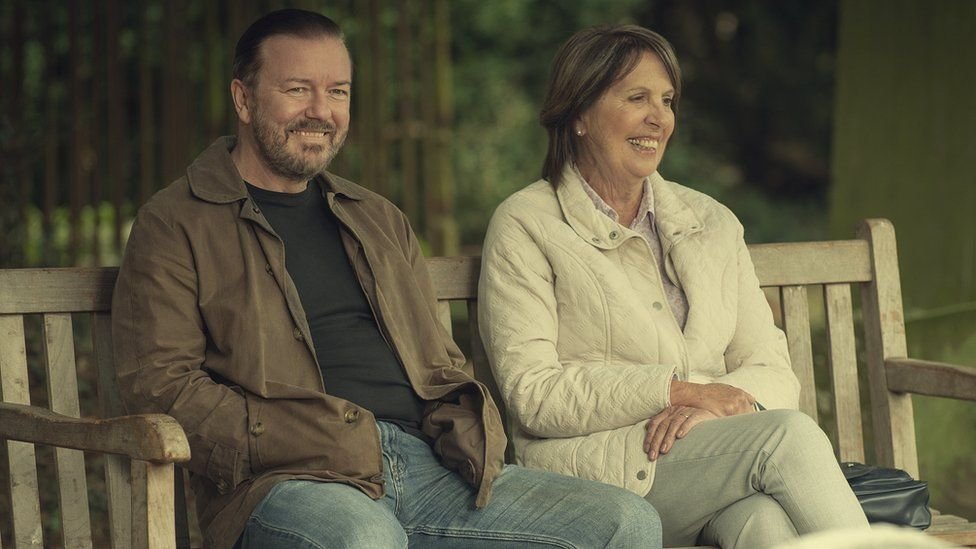 Who are CALM?
Non-profit CALM's objective is to take a stand against suicide, which according to them means 'standing against feeling shit, standing up to stereotypes, and standing together to show life is worth living.' As stated on their website, 125 lives are lost every week to suicide and 75% of all UK suicides are male. Whether it's by instigating conversations, running life-saving services or bringing people together and encouraging them to get help when they need it, this charity is really doing amazing work.
If you want to hear more from CALM, they spoke at our YMS LDN event last year on the panel 'The Last Taboos For Young People'. Voxburner+ subscribers can check out the video here.
What's the campaign about?
Some of the most important moments and conversations in After Life take place on a park bench in the graveyard where Tony's wife is buried. Tony sits, either by himself or alongside an older woman who is mourning her husband, and discusses his life and his mental health. Netflix and CALM came together for this campaign to acknowledge and celebrate this, and have installed a number of benches in parks across the UK to provide a place for people to chat and reflect. A total of 25 benches have been donated.
The benches have been inscribed with the moving line from the show: 'Hope is everything.' Gervais, when commenting on the campaign, said: "We hope the benches will create a lasting legacy for After Life, as well as become a place for people to visit."
Shared a wonderful and wholesome moment with a lady called Anna at the Taunton #afterlife bench yesterday. If connecting with a total stranger doesn't epitomise what the benches are about, I don't know what does.
~"Hope is everything"~
Thank you @rickygervais @theCALMzone 💖 pic.twitter.com/RdtFfq1b6L

— Heather Manning (@HManning_1994) January 21, 2022
Two of the benches have been placed in parks across Nottingham, and Eddie Curry from the Nottingham City Council spoke about the impact of the campaign: "We know people have really relied on our open spaces during lockdown – for exercise, for wellbeing and for their mental health. These benches will provide even more opportunities to sit, be still, chat as well as giving you a chance to reflect." According to CALM, these benches have been put in place as a way of encouraging people to have difficult, but entirely normal, conversations.
Benches can be found across the UK in: Ashford, Bath, Birmingham, Bristol, Cardiff, Edinburgh, Cardiff, Falmouth, Glasgow, Liverpool, London, Manchester, Minehead, Newcastle, Surrey Heath, and Taunton.
Why do we love it?
For starters, this campaign has drawn inspiration from a brilliant show that was a hit with people from all generations, and Gen Z was no exception. Remember that Voxburner stat '52% of Gen Z prefer staying in with Netflix and a takeaway to going out' that we shared in our Student Life report? Well, that's undoubtedly partly down to shows such as this.
Ricky Gervais putting After Life benches around the UK for mental health awareness is incredible👏🏼

— Georgia (@ge0leigh) January 25, 2022
Futhermore, we all know how important mental health and wellbeing is to this generation, and this campaign is going down exceptionally well. Young people really value the importance of taking time out and reflecting, and this is exactly what these benches promote – even more vital than ever before given the chaos that we've faced over the past few years.
So be sure to keep an eye out for these benches, and let us know if you find one.
Want more like this? Subscribe to our newsletter for weekly updates on the latest youth trends direct to your email inbox.
[Cover image 📷: Netflix]